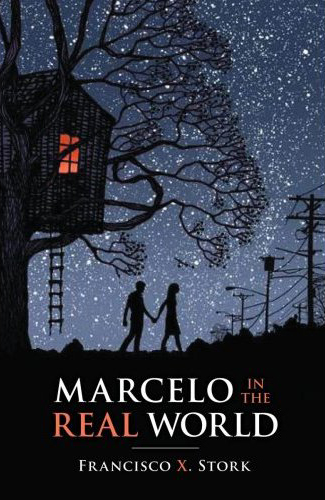 Marcelo in the Real World
doesn't have the plot description that normally attracts my interest, but I had noticed several
good reviews of it
. So I picked up the audiobook version from the library to listen to on my way to and from Houston this weekend (for Melissa Marr's
Teen Faery Ball
!). This is all I'm going to say about it: When I got back home today, I had exactly one CD left to listen to. I rushed inside, dropped all my stuff on the floor, pulled out my print copy that I fortuitously had in the car, and plopped down on my couch to read the rest. Then I immediately e-mailed my friends and told them they MUST read this book. I'm thinking this should get at least a Printz Honor, if not the Printz.
Let me also add that Lincoln Hoppe does an excellent job at performing the audio version. His pacing is excellent, and I'm actually quite glad I listened to (most of) the book rather than reading it because I have a tendency to read really fast, and this book deserves a slower pace (which I think Hoppe did perfectly). I loved all his interpretations of every sentence, and I tend to be pretty critical about such things. Maybe it's the former speech coach in me. The only problem was that Hoppe also
narrated King Dork
, which is one of my favorite books, and so I had a hard time not thinking of him as Tom Henderson.